Saturnia/Maremma in Tuscany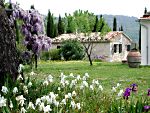 Enjoy a day at the spa! We rent farmhouses and apartments located in the countryside near the Terme di Saturnia Spa & Golf Resort as well as in the historic center of Saturnia. A charming country house for two, an apartment for eight in a farmhouse or a vacation rental on the main square of Saturnia village.
» See our Saturnia vacation rentals
Grotti Castle near Siena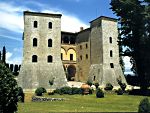 Our organic farm near Siena. A villa, apartments and farmhouses on the Grotti Castle estate. Relax in the classic countryside and visit the nearby towns of Tuscany. Accommodations range from a quaint, high ceiling, terracotta floored apartment for two to an elegant and majestically decorated villa for twelve.
» See our Grotti/Siena vacation rentals
Maremma Seaside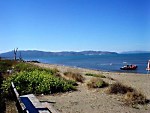 A vacation at the beach in Tuscany. Relax in the garden of the farmhouse or take a walk on the footpath to the beach. We have two vacation rentals at the beach, a four bedroom two story farmhouse and a two bedroom apartment. All of these are located 200 m. from the sea in the Maremma area of Tuscany.
» See our Maremma vacation rentals
Florence Apartment
A lovely one bedroom apartment in the historic center. Located between Ponte Vecchio and Palazzo Pitti in the Oltrarno area of Florence, this apartment is furnished with care and includes heating and air conditioning. Enjoy Florence beauties, shopping and restaurants just outside your doorstep.
» More on our Florence apartment
Extra Virgin Olive Oil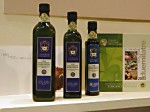 Organic olive oil produced on the Grotti Castle estate. Our olives are harvested by hand from the olive groves around the castle, that we till three times a year. The olives are then taken to an oil-press and cold sqeezed which delivers a beautiful green-coloured extra virgin oil with a marked fruity flavour and distinct herbaceous nuances that we bottle on the estate's premises in dark green glass bottles.
» More information on our Olive oil
Receptions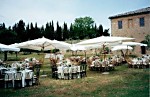 Special events and receptions. We have several locations in the park that are perfect for receptions and gatherings on the Grotti Castle estate. Imagine your seminar, workshop, conference, retreat, wedding, family reunion, or special event in our splendid, restored, sophisticated and classically Tuscan indoor and outdoor venues. Two ample parking for the guests just outside the park of the castle, near the private chapel.
» More about Reception venues