Home ::
Extravirgin Olive Oil of Castello di Grotti
Extra Virgin Olive Oil produce in Castello di Grotti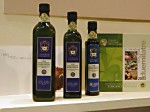 The olive groves of the Castello di Grotti Estate grow mostly on deep and clayey soil, rich in skeleton and with excellent sun exposure.
The National Research Council (CNR) regulations ensure the presence of given botanic characteristics of olive trees of the Frantoiano and Moraiolo cultivars.
During the winter of 1985-86, severe atmospheric calamities much damaged the whole of Tuscany's olive tree groves.
Because of our awareness of the importance of maintaining the traditional landscape that surrounds the Siena skyline, over the following years we were able to restore our olive groves (covering approximately 13 hectares of lovingly tended land) to their former levels of productivity.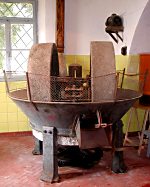 The average time for a newly planted olive oil tree to begin to yield a significant produce is about 6 years in the region !
We are especially proud to have been able to make sure that a very ancient and important produce such as olive oil ( just think of its past relevance as a source of light!) has not disappeared from our estate.
The agritourism of Castello di Grotti is partly planted with olive trees. We grow them with great care.
We plow the olive groves three times per year. We follow the practice of "sovescio", a practice that enriches the soil by burying the leaves and stems of beans sowed earlier in the year.
Such treatment ensures that our olive groves - since many years now - do not need any chemical fertilizer nor weed-killer.
The olive harvest is done by hand, picking the olives directly from the trees: the harvesting season generally lasts from early November to late December.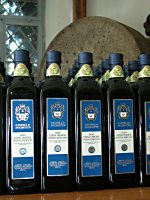 Once the olives have been harvested they are immediately taken to the oil-mill so as to ensure an outstanding extra virgin olive-oil quality.
The oil-mill which we have chosen adopts the traditional "a freddo" cold pressing system. The whole process thus ensures an extra-virgin olive-oil which is used for preparing the well-known savory Tuscan cooking recipes.
All the caracteristics of our Extra Virgin Olive Oil Toscano harvested in last November and December are tested from the Panel Test Commission of the Siena Province Administration.
The Acidity of the 2011 Extravirgin Olive Oil is 0,25 %
See the chemical analisys of our extravirgin olive oil.
We sell our olive-oil in food-specific cartons or glass-bottles of 0,75 or 0,50 or 0,25lt (24,75 or 16,9 or 8,45 FL.OZ.)